I'm a people junkie, addicted to love, life and laughter and bubbling with excitement about the opportunities placed along my windy yellow brick road.

For a quarter of my life I've been moonlighting as a TV presenter, hosting shows about people's lives, their homes and dreams. I am completely obsessed with everything to do with men, women and children and have an intrinsic love of you all! A modern day nosy and rather irreverant Mary Poppins!

I started off my TV career on a BBC prime time show helping families relocate their life's all around the world; Get a New Life. Not bad for a first gig as a little known Northern girl hey! For two years I worked with all types of wonderfully interesting people, managed to accumulate a couple of passports and several thousand air miles as part of the deal. I still can't believe my luck and every day thank my lucky stars, long may it continue please.

All my TV work is based on solid business foundations as post my Uni. stint and throughout my TV career I worked as a marketer/entrepreneur and property developer.
I thrive on variety, it spices up my life and a colourful work path has seen me successfully branching out into journalism, modelling, voice over work, corporate jobs and another big love of mine is to host live events and award ceremonies.

I love to work, but am lucky to have a healthy work life balance so I like to travel, an awful lot! Sailing, tennis, skiing and eating are also way up there on my fun scale!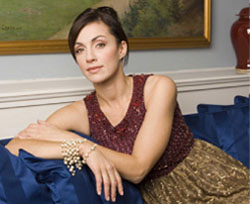 I love people, all shapes, sizes, characters and colours, I am obsessed by looking, learning, listening and hanging out. My friends are enthusiastic, thankful for being alive and motivated in their unique dreams. Those with a joie de vive and sparkly eyes fascinate me and irreverence amuses me.

Optimism is something I strive for on a daily basis. Love, laughter and fun are way up on my agenda and I like to be naughty and to laugh; belly laughter, crying with laughter, laughing uncontrollably, laughing with friends and laughing at myself.

I adore travelling and was born with ants in my pants. Diverse cultures, architecture, food and people are all the treasures these environments provide and I get goose bumps thinking about the surprises about to unfold. Florence is fabulous for glam, the Maldives for romance, New York for shopping, and Buenos Aires for architecture. There's so many countries to choose from and it's such fun snooping around hotel interiors!

My heritage is a mish mash of Italian, Czech and Austrian with a sprinkling of Polish so my childhood was colourful and very noisy! Food, eating and being sociable are intrinsically part of who I am and my dream meal would contain sexy oysters, bubbly pink champagne, creamy Charbonnel et Walker champagne truffles and a zingy mouthful of Haribo tangfastics. My mouth is watering thinking about it.

Chit chatting with loved ones is way up my priority list and my preference to going out. Incredible food, surrounded by the people I love in my home, is perfection. Home is my safe haven and if being a part time hermit could work with my lifestyle, it'd be my preference as I'm an oxymoron! Home is where I relax, unwind and listen to music, read and watch back-to-back rom. coms. Jeremy Kyle makes me giggle and I enjoy reading anything Tony Robbins.

I'd really like a dog without the responsibility of having to walk it regularly or clean up its **!! Either a sausage dog or some sort of cuddly spaniel type that is self-sufficient. Not going to happen me thinks!